Al Fresco Fortnight
19th June – 3rd July 2016
The HTA are launching a new annual flagship event 'Love the Plot You've Got'.  Kicking off on Father's Day, Sunday 19th June, the event will aim to get as many people as possible to eat outside at least once over the two-week period.
The fortnight will cover the summer solstice, allowing for the optimum number of daylight hours in which to be outside.
We stock firewood from The Green Olive Firewood Co which are longer burning, more economical and burn with a beautiful aroma. Their firewood is totally natural and green renewable energy resource that they cut into handy pieces so that it burns well in open fires and wood burning stoves. Ideal for chimineas, fire pits, barbecues and pizza ovens.
We have expanded!
Our new extension is now built housing a new check-out area and customer information point, and we are all very excited!!
The story so far…
April – Our new till point and information desk opened on Good Friday and continues to be a talking point with our customers.  We think it looks great!
March – The brickwork is complete, we have walls, a roof, and a floor!  We are so close to moving into our brand new extension!!!
February – The framework is now up, you can truly see the size the building is going to be now the skeleton is there.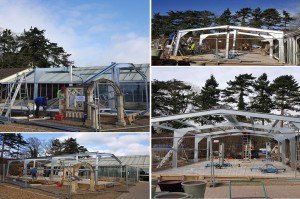 January – The ground is dug and the foundations are in.
December – We are so pleased that our shiny new solar panels are up and running.  Thanks to our friends at Earth Save Products we are now able to harness all that lovely energy form the sun to operate our garden centre and our cafe.